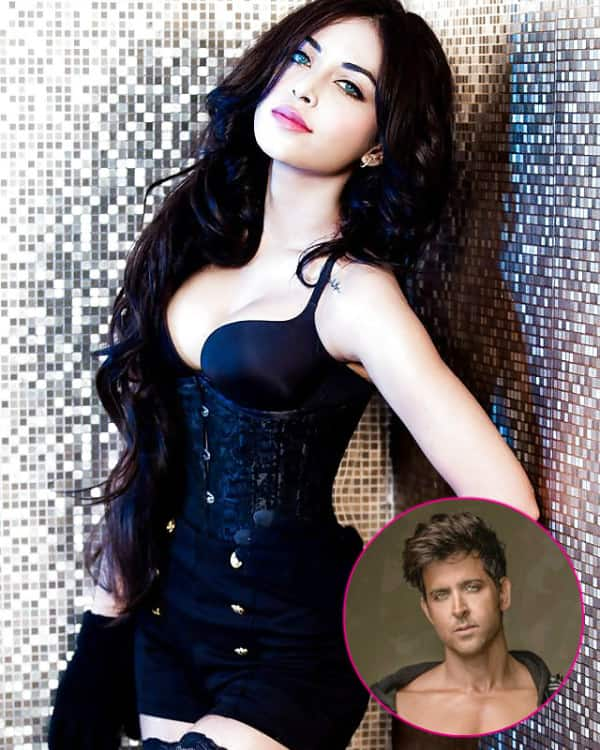 There's no denying that Hrithik Roshan has shared a crackling chemistry with all his female co-stars on screen. He has also had a link up with his Kites leading lady Barbara Mori, who he then took under his wing. He groomed her and her brother for a Bollywood career, but that was not meant to be. And now, the large-hearted actor is doing the same with Polish-Spanish model-turned-actress Angela Krislinzki, who featured in two commercials with Roshan Jr.
When contacted, Angela gushes, "Like every other newcomer, I had a crush on Hrithik when I worked with him for the first time in a commercial. When I told him about my half-Spanish background, he was reminded about the old-world charm of Valencia and Spain. He was supportive and gave me acting tips."
It was while she was shooting with Hrithik for her second commercial last year that she began to get the feeling that she had found a mentor and a friend in Bollywood. "I was under the impression that he had forgotten me. After all, he is a star who shoots umpteen ads with several young models. But he called out to me and remembered all the conversations we'd had and the fact that my dad was from Valencia. He also asked me jokingly whether the colour of my eyes was real. When I signed a movie in the South. He also inquired about the maker and assured me that this film would definitely take me places," she said.
Angela, who was last seen in Tollywood film, Size Zero, is expected to make it big with her first full-fledged role in Puri Jagannadh's Rogue. It is learnt that Hrithik has great plans for her and may even consider her for one of his big films, once she has wrapped up her assignments down South. She does confess that she worried about her unconventional looks being a barrier to her making a headway in Bollywood. She shared her insecurities with Hrithik. "I told him it would be difficult for me to access filmmakers and get the right roles in Bollywood because of my international looks. He assured me that it was all about confidence and asked me to work on my acting skills and Hindi diction. That conversation with him changed my life," she recalled.
The two were later supposed to do a musical video for T-series but it did not happen. "That was soon after Hrithik's Aashiqui video was released. We had even rehearsed together for a day, but Hrithik suffered an injury soon after and it was called off. I was looking forward to it," she says. ALSO READ – Parth Samthaan's former heroine Angela Krislinzki all set to reprise Sushmita Sen's role from Biwi No.1 in a film
She adds, "I consider Hrithik a mentor and keep him informed. I showed him a song from my last south release, Size Zero and he liked it immensely. Later, I I even sent him the first look and trailer of my upcoming film Rogue and he was impressed," she said.
Meanwhile, Hrithik is preparing for his next production, apart from a film he recently signed. That big break could take a while for Angela. She shrugs, "I wouldn't know. I am happy that I have found a great friend and mentor in him. I would love to work with him again but I don't know when it will happen."