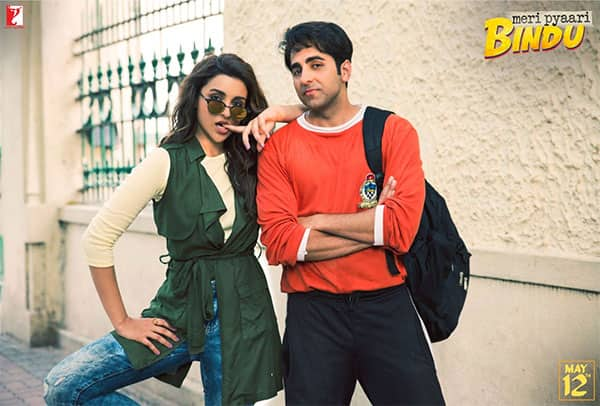 Parineeti Chopra and Ayushmann Khurrana are winning hearts with their terrific chemistry in Meri Pyaari Bindu. The filmmakers have decided to launch the trailer in five parts i.e five different chapters. The first chapter was released yesterday and although Parineeti and Ayushmann were missing from it, it made viewers more inquisitive about the storyline of the film. And now, for all those who missed seeing the lead protagonist in the first chapter, the filmmakers have released a new still from the second chapter that will be out today. Going by their looks, Pari and Ayushmann are definitely up to some mischief. (ALSO READ: Here's all you need to know about the next four chapters from Parineeti Chopra and Ayushmann Khurrana's Meri Pyaari Bindu…)
The second chapter of Bindu (Parineeti) and Abhimanyu's (Ayushmann) life will show them as college students. Bindu is quite a prankster and the second chapter will give us a glimpse of the naughty side of Bindu. She will pull off some hilarious pranks, do all sorts of masti, even help people cheat during exams, while Abhi will be by her side as the decent guy.
As far as the first posters are concerned, viewers have been loving Ayushmann and Parineeti so far. Not to forget the first song from the film released a couple of days ago and fans couldn't stop going gaga over it! Parineeti made her singing debut with Maana Ke Hum Yaar Nahin and she has outlived our expectations! So we are definitely looking forward to Parineeti and Ayushmann's quirky chemistry in Meri Pyaari Bindu. It tells a story about an aspiring singer (Bindu) and her love story with Abhimanyu Roy. Meri Pyaari Bindu is produced by Maneesh Sharma and is all set to release on May 12, 2017.